BC craft cannabis is immensely popular in 2023 and the demand for small batch Canadian craft exotics from micro growers and producers is at an all-time high.
Weed snobs and enthusiasts from coast to coast are at their peak of knowledge when it comes to cannabis in Canada, thanks to legalization back in 2018. The weed loving public are much more educated now, they want the best of the best that fits their budget, it's as simple as that. These connoisseurs are hunting for craft AAAA+ designer strains from the best BC craft cannabis brands to not only satisfy their needs, but to surpass their expectations to get that euphoric experience of well-being and happiness.
In this article, I explore the best cannabis available in Canada, and it's all from beautiful British Columbia. Everything is based on the opinions of experienced virtual budtenders, industry experts, and my own reviews after I sampled the products. I will outline some of the best and most recommended craft cannabis brands coming out of BC with my picks of the top 3 craft AAAA+ strains you can buy online.
Here are the Most Recommended and Best BC Craft Cannabis Brands
Mail order marijuana dispensaries and cannabis brands are the most popular on Budhub Canada. One of my jobs is to read the thousands of reviews on our platform to weed out the abusive and offensive behavior. By doing this, I get a unique perspective into what products people love and dislike. I also have to answer customer's questions and work with budtenders on a daily basis. So I set out and interviewed them asking about their best-selling craft brands and what strains they like and recommend the most. After all, the budtender knows it all and are the cannabis go-to professionals.
Top 3 Craft Cannabis Strains in Canada
After interviewing the budtenders, I set out and ordered the top 3 recommendations online so I can see for myself just how good the craft weed really is…
1)  Tuna Kush (Indica)
By: Buddha Boys
Potency: THC 18% – 25%
A legendary BC strain that's expertly grown in small batches and perfectly cured and trimmed. Tuna Kush is described to deliver one of the best indica-type highs around. This BC bud is known to overcome users with euphoric and relaxing rides. If you're looking for a classic potent craft strain that smokes smooth and creamy, look no further.
That is my picture above of Tuna Kush after I cracked the seal. I got myself a 7 gram can of this strain for $65 and attest to its gorgeous bag appeal. Its flavor and smoothness are also over the top with a complex terpene profile. I can personally say that I love getting my weed in a sealed can, you just know it's going to be fresh.
2)  Jokers Candy (Indica Dominant Hybrid)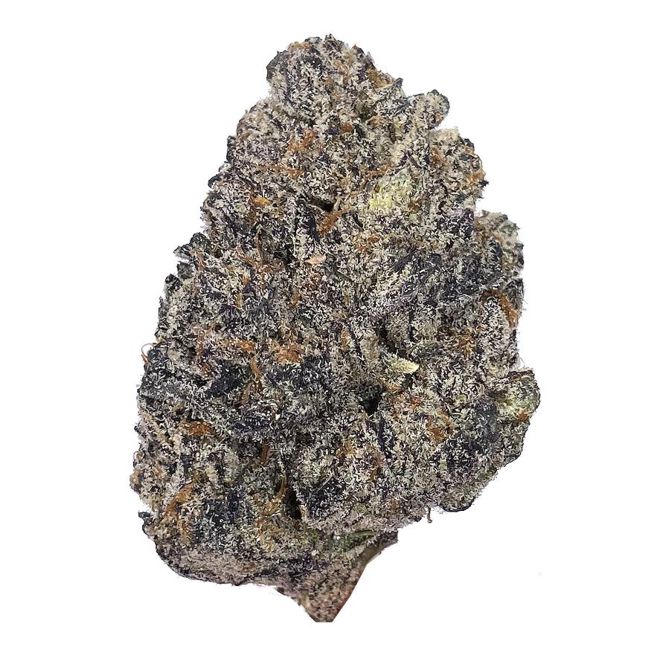 By: Kootenay Exotics
Potency: THC 27% – 29%
The effects of Jokers Candy are a wild ride I must say. Expect to be hit with waves of uncontrollable laughter and happiness. The slightest thing might set you off and you'll be rolling with giggles. You'll also feel a boost of energy and positivity that will last throughout the high. Although your focus may start to fade into a hazy bliss, your body will still feel relaxed and at ease. In short, this unique craft strain is a perfect balance of a giggly head high and a light body buzz that will have you feeling like you're on top of the world.
3)  Organic Romulan (Indica Dominant)
By: 1964 Supply Co.
Potency: THC 18% – 24%
This popular Pacific Northwest strain is FVOPA Certified Organic and is one hell of a treat to smoke. It's ultra creamy and smooth to smoke with a flavour profile of mixed berries and a Canadian pine forest. It's derived from the North American Indica and White Rhino lineages. It's grown in organic soil, hang-dried for 14 days, and cold cured – the best of the new and old growing techniques in my opinion.
Buy Craft Cannabis Online from the Best Mail Order Dispensaries
Here is a curated list of the top-rated and most trusted MOM dispensaries based out of Vancouver. Take a look at this article for the best bulk craft weed online.
Conclusion
British Columbia has been the hub for craft cannabis for generations and the thriving industry has endless high-quality brands and craft strains to choose from. There's something for everyone. The brands mentioned in the article, like Buddha Boys and 1964 Supply Co., have made a name for themselves by consistently delivering top-notch and unique products. With the growth of the craft cannabis movement, it's exciting to see what new and innovative strains and brands will emerge from BC in the future. Whether you're a self-proclaimed weed snob or a curious first timer, it's worth checking out the diverse offerings from BC's craft cannabis scene.