Here are the 5 Best CBD Gummies in Canada with Reviews 2022
CBD gummy edibles are popular in Canada and all over the world for that matter. You will find them pretty much everywhere in Canada including: curbside retail cannabis stores, CBD dispensaries, and online dispensaries. We have all heard our friends and family raving about the benefits of CBD, and even more so, we are all very curious to try CBD out and see if it really helps.
I can tell you first hand that CBD absolutely works for hangovers and for muscle and joint pain relief. I've tried most of the leading CBD gummies available on the market and reviewed most of them for taste, quality, brand reliability, and effectiveness for pain and inflammation. If you are here because you want to try CBD gummies, then join me and discover the best on the Canadian market.
Before we get into the best CBD gummies Canada list, I think it is important for anyone who is concerned about whether THC is part of CBD to know if they will they get high or not when consuming CBD gummies. You see, CBD gummies can be made from full-spectrum CBD oil or CBD Isolate, and some of the gummy products can even have CBD and THC mixed into one product at various ratios. So be careful and always read the label.
FYI – The Difference Between Full Spectrum CBD Oil and CBD Isolate
Full-spectrum CBD oil contains all the natural cannabinoids that exist in the cannabis or hemp plant. When compared to CBD Isolate that contains CBD only, (over 99% pure), meaning the other naturally occurring cannabinoids have been extracted.
Premium full-spectrum CBD oil is high in CBD, with only trace amounts of the other cannabinoids, and very low in THC (less than 0.3%). Regardless of these relatively low amounts, the overall CBD oil composition is considered to be "full-spectrum" that provides the "entourage effect" – which refers to the increased benefit or effectiveness of the full-spectrum CBD oil due to the different cannabinoids working in harmony. Full-spectrum CBD oil is considered to be more effective than CBD isolate because of this "entourage effect".
Here are the 5 Best CBD Gummies and Edibles in Canada based on Reviews and Popularity
Each recommended product is 3rd party lab-tested and from some of the best and most trusted CBD brands and online dispensaries in Canada.
1) Zen Leafs CBD Gummies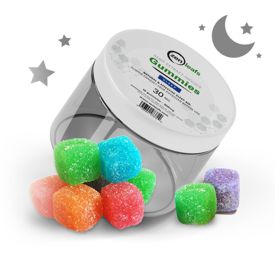 These CBD gummies come formulated for pain or for sleep (with Melatonin), your choice. They contain full-spectrum CBD with an ample CBD dosage of 30mg per gummy. They come in assorted fruit flavors and taste great with a soft chewy texture. These CBD gummies landed in the #1 spot because I found them to be most effective for my knee pain – the branding is spot on. The packaging is top-shelf, using a plastic sealed container, with all the required information on the lid.
CBD Dosage Breakdown: 30mg of CBD per gummy, 10 gummies per container
CBD Type: Full Spectrum (less than 0.03% THC, provides the desired entourage effect
Online Retailer: CBD Magic – View Product
Lab Tested: Yes
Price: $39.99
Shipping: Free Canada-wide (no min order), 2-5 business days
Coupon Code: BUDHUB (20% off, unlimited uses)
CBD Gummy Reviews: My unboxing review
2) BC Weed Edible 50mg CBD Gummies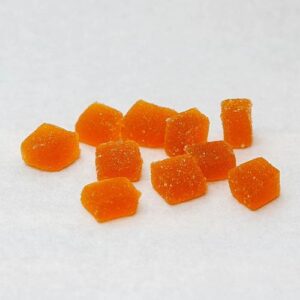 This stellar Canadian THC and CBD edibles brand have artisan CBD gummies that are vegan and are made with no gelatin. They are perfect for lactose intolerant people like me, and on top of that they taste great and are on sale for a good price. The gummies performed wonderfully for me in the pain department and are a great sleep aid. They can also help you fight depression, anxiety, stress, inflammation, and nausea. CBD gummies from this online dispensary made the #2 spot because they have proven to have consistent doses per portion and they are vegan, making them a healthier choice.
CBD Dosage Breakdown: 500 mg of CBD total in package / 10 gummies with 50mg of CBD in each
CBD Type: CBD Isolate 99.9% pure (no THC) Vegan
Online Dispensary: BC Weed Edible
Lab Tested: Yes
Price: $40 (bulk discounts are available)
Shipping: Free Canada-wide ($99 min order), 2-5 business days
Coupon Code: Use code FIRST20 for 20% off your first order and use code FIRST10 for 10% off your second order
3) Herbivores Variety CBD Gummies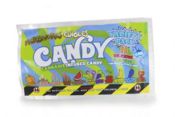 These CBD gummies are fun, effective, and tasty. With a great selection of Herbivore CBD Edibles in your pocket, you can't go wrong, including: Banana, Strawberry, Watermelon, Cherry, Grape, Blue Foot, Keys Sours, Peach, Coca Cola, Cherry Cola & Bubble Gum Cola. I always have a pack in my fridge of these gummies because I love the candy like taste and vibe I get from this brand, they make me feel like I'm getting a sweet treat with benefits.
CBD Dosage Breakdown: Variety pack 25mg per piece/275mg per package (11 Pieces)
CBD Type: CBD Distillate (no THC)
Online Retailer: Speed Greens – View Product
Lab Tested: Yes
Price: $30
Shipping: Free Canada-wide ($149 min order), 2-5 business days
Coupon Code: 20% off code: BHC20
4) CBD Cara-Melts by Twisted Extracts
Technically not a gummy, but these Cara-melts are listed in the CBD gummies section, and I love them, I know you will too. Twisted Extracts are an iconic brand in the cannabis concentrates space here in Canada, and they rule the CBD edibles market as well. I was addicted to these CBD caramels for months simply because they taste amazing and contain smaller dosages of CBD for those times a smaller dose seems more fitting.
CBD Dosage Breakdown: 80 mg of CBD total in package / 8 caramels total with 10 mg of CBD per
CBD Type: CBD Isolate 99.9% pure (no THC)
Online Retailer: CBD Oil Canada Dispensary – View Product
Lab Tested: Yes
Price: $18
Shipping: Free Canada-wide ($150 min order), 2-5 business days
Coupon Code: FIRST15 (15% off first time orders)
Reviews: CBD Oil Canada unboxing review
5) Boost CBD Gummies Variety Pack
Boost's CBD edibles are very popular and one of the top selling brands in Canada. Their gummies are available in multiple flavors and strengths, and are presented in perfectly sized tins that are ideal for people on-the-go. Alternatively, they are just as handy sitting there on your nightstand waiting to help you get a good night sleep or perhaps even help nurse a hangover. I used to have a tin of these CBD wonders on me all the time, and my friends all loved them, it's the new Advil for me! They are mildly sweet with no green taste and are very convenient to carry around with you.
CBD Dosage Breakdown: 150mg Tins (10mg each candy) / 300mg Tins (20mg each)
CBD Type: CBD Isolate 99.9% pure (no THC)
Online Retailer: Boost Edibles – View Product
Lab Tested: Yes
Price: $24 to $40
Shipping: Free Canada-wide ($99 min order), 2-5 business days
CBD Gummy Reviews: Customer reviews
---
The Best CBD Gummy Brands Canada with Customer Reviews
---
Conclusion
Always read the label to ensure your CBD gummies are exactly what you want and expect. Triple check that you don't select a CBD edible product that has both CBD and THC. It's sometimes hard to tell the difference when shopping for edibles online. If you are concerned with how much CBD you should take, then these CBD dosage guidelines should help. Please consult a physician prior to trying CBD products for the first time.
---
Related Content